Hotel Services and Policies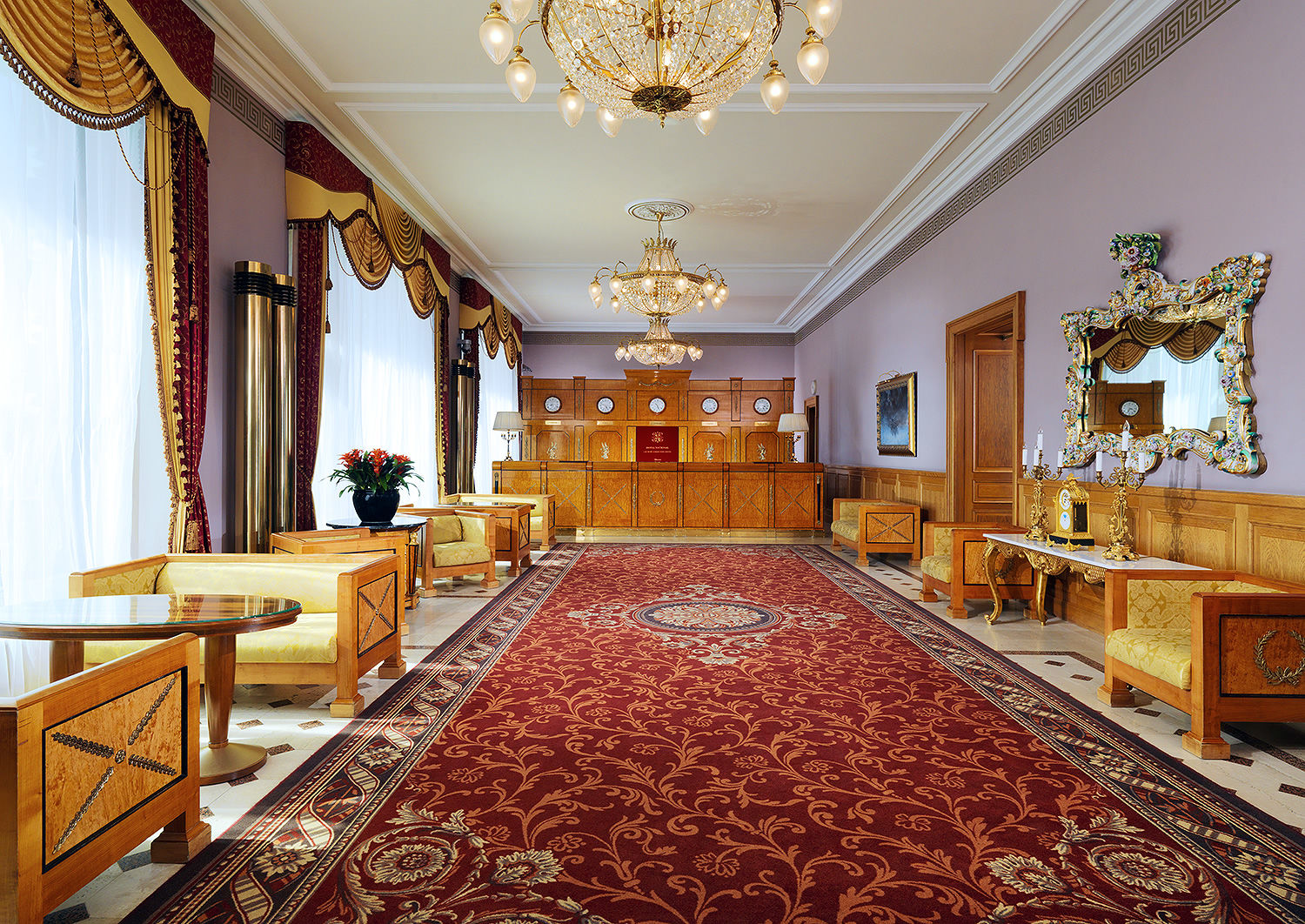 Hotel Services
Smoke-free hotel
24-Hour Security
Luggage Storage (complimentary)
Bellmen/Porters
Elevators
Doorman
Safe Deposit Boxes
Laundry Service
Dry Cleaning
Multilingual Staff
Shoe Shine Service Available
24-Hour Front Desk
Hotel Transportation
Airport transfers (groups and individuals)
Public parking is possible at a location nearby and charges are applicable
Business Services and Internet Access
Wi-Fi in all rooms and public spaces with free and paid options
High Speed Internet Access in Business Center (Complimentary)
Print documents in Business Center (At extra charge)
Dining Facilities
Fitness Facilities
In-house Fitness Center with complimentary use of Gym, Swimming Pool and Sauna; Solarium and massage service are provided at additional fixed price
HOTEL POLICIES
Alcohol Policy
We are pleased to serve alcoholic beverages to guests over 18 years of age.
Arrival and departure time
Check-in: 02:00 PM Check-out: 12:00 PM.
Age Requirement Policy
All guests must be 18 years or older to register. We request that minors be accompanied by an adult.
Breakfast options
If breakfast is not included into the rate, guests are welcome to choose two breakfast options - buffet breakfast with view of Moscow Kremlin at 2 100 Rub including 18% VAT or business breakfast served in Alexandrovsky Bar at 950 Rub including 18% VAT.
Connecting Room Policy
The hotel is pleased to offer four connecting rooms for guests' convenience. Please make requests as early as possible to ensure availability.
Currency Policy
Please be advised that all room rates and charges are quoted in Russian Rubles (RUB).
Early Departure Policy
We are pleased to accommodate early departures upon request.
Early Arrival Policy
To guarantee a room for early arrival, we request that guests provide full payment for one night prior to arrival. Please make requests as early as possible to ensure availability.
Extra Bedding Policy
It is our pleasure to offer rollaway beds upon request for 2 360 RUB, including 18% VAT. No charge for children up to age of 12 years provided that they are staying in parents' room in the existing bedding. Please make requests as early as possible to ensure availability.
Family Plan Policy
When the room rate includes breakfast, children of 12 and under eat for free as well. If the room rate doesn't include breakfast for parents or it is not paid additionally, then children under the age 12 will have breakfast for extra charge.
Late Checkout Policy
We are pleased to accommodate late checkouts upon request. In the case of a late checkout before 6 p.m. an additional 50% room-rate fee will apply. For check-outs after 6 p.m., a 100% room-rate fee will apply.
Pet Policy
While we greatly appreciate our guests' four-legged companions, Hotel National does not accept pets at this time.
Credit/Debit Card Policy
Debit and Credit cards will be authorized at check-in for the amount of your stay, plus an amount to cover incidentals. The authorization will hold the funds until check-out, at which time the amount actually incurred during the stay will be charged. Authorized amounts may take up to 30 days after departure to be released by your bank or financial institution and the hotel will not be responsible for any resulting fees or charges.
Please be informed that according to the banking legislation of Russian Federation we cannot accept electronic cards (such as Visa Electron, MasterCard Electron, Maestro) as a method of payment for prepaid rate bookings.
Payment Policy
We are pleased to inform you that we accept all major credit cards (Visa, Amex, MasterСard, Diners Club, Mir, JCB, UPI) and Russian rubles as a method of payment. We regret that checks are not accepted as a method of payment.
Smoking Policy
Please note that due to the Federal law starting from June 01, 2014, the hotel is completely smoke-free.
Visa/Passport Policy
In accordance with the Russian law accommodation and registration of Russian citizens at Hotel National (except for residents of foreign countries) will be allowed only upon producing the legal original passport of the Russian Federation.
All travelers to Russia must have a valid passport and a Russian entry visa, which must be arranged prior to your travel through the Russian Embassy/Consulate. The hotel provides visa support service to all guests who booked their rooms on national.ru, spg.com, booking.com, expedia.com or by phone call to the hotel. For the special visa support payment agreement, please contact the Reservation Department at +7 (495) 258 7114 or email res@national.ru. Visa support letters are free of charge but in case of a reservation cancellation or guest non-arrival, a charge of 7000 roubles per visa support letter will be applied to the credit card on file.